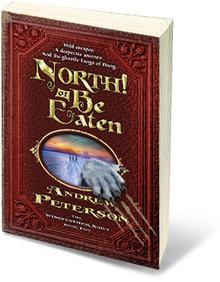 ​North! Or Be Eaten
​ is the second book in the
Wingfeather Saga
, published on August 18, 2009, by Waterbrook Press, part of Random House. It is preceded by
On the Edge of the Dark Sea of Darkness
and succeeded by
The Monster in the Hollows.
The Blurb
Janner, Tink, and Leeli Igiby thought they were normal children with normal lives and a normal past. But now they know they're really the Lost Jewels of Anniera, heirs to a legendary kingdom across the sea, and suddenly everyone wants to kill them.
In order to survive, the Igibys must flee to the safety of the Ice Prairies, where the lizard-like Fangs of Dang cannot follow. First, however, they have to escape the monsters of Glipwood Forest, the thieving Stranders of the East Bend, and the dreaded Fork Factory.
But even more dangerous is the jealousy and bitterness that threaten to tear them apart, and Janner and his siblings must learn the hard way that the love of a family is more important than anything else.